Oooh, it's getting chilly in Hobart! We have snow on our mountain and ice and frost in our garden every morning.....winter is here!
In June, we went to Sydney to defrost, have fun exploring the treats that only Sydney has to offer and of course catching up with some of our old friends. We saw Mary Poppins - the show and visited The zoo and the science museum. It was a grand home Ed excursion!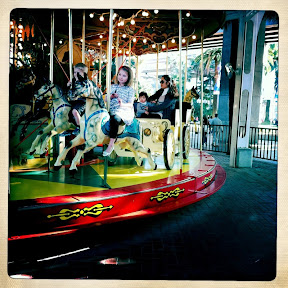 The carousel at Darling Harbour...isn't is magical!
Antonia showing us her new skill....chopsticks!
The 3 of us (Simon is taking the picture otherwise he'd be there too!). It was so nice to not wear long sleeves and thermals! Though all the locals thought we were crazy :)